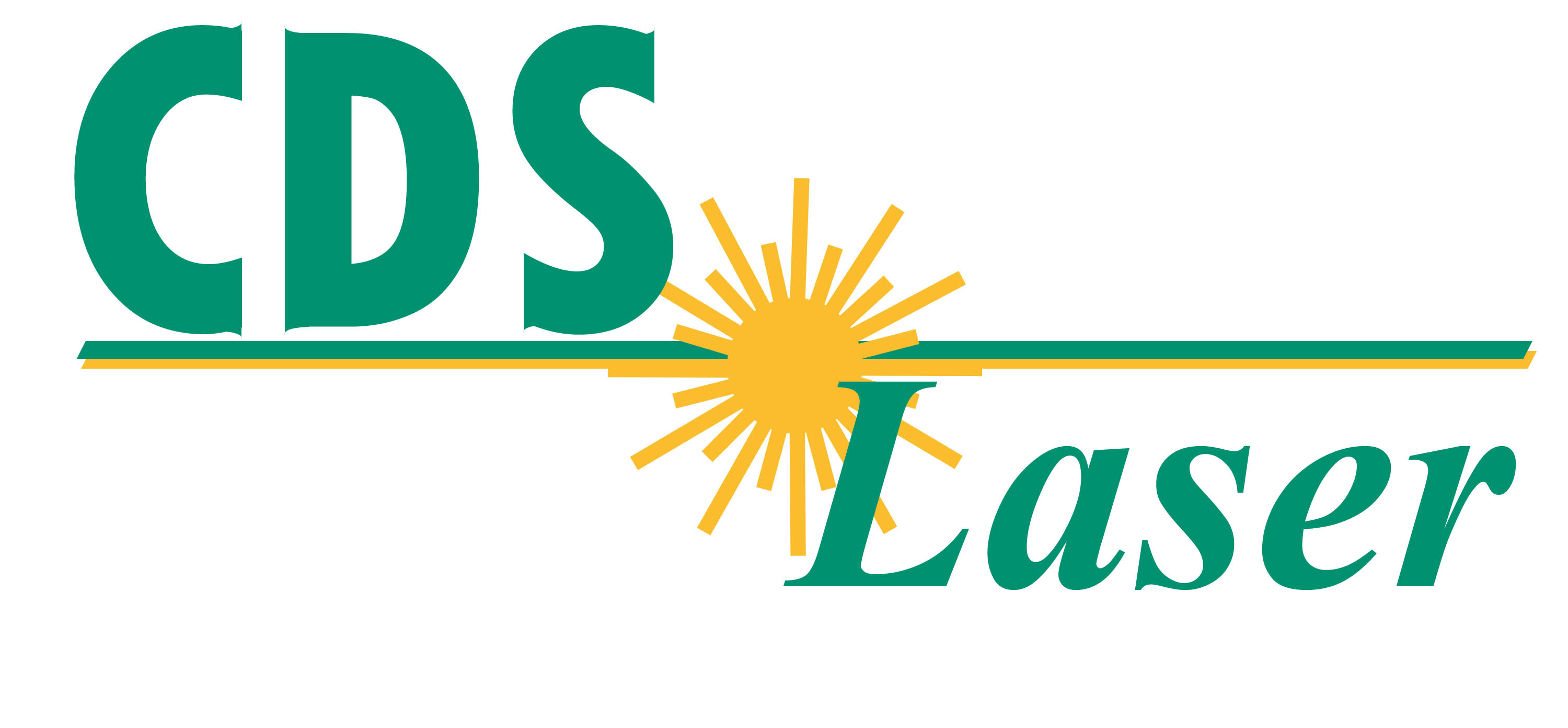 Welcome to CDS Laser site. This is the division of CD Solutions Inc. dedicated to our laser engraving business. To talk to a sales person please call 800-860-2376 and press 1 for sales. Prices shown are for bulk orders. Higher prices apply for smaller orders.





What is laser engraving? Laser engraving is the process of using a beam of light to melt or burn a material. It can be done with very fine control for exacting precision. Think of the laser as a tool just like a chisel in the tool box with a super fine point to it. But also remember that because the light creates heat, we have both a tool we can chisel with, or one we can draw with. We can "print" up to 1200 dpi however most materials can't support that high a resolution. Many items look better at lower resolutions so it's important to let experience tell us what settings to use on what materials.


Depending on the amount of power applied to the laser, and the speed at which the laser passes over a material we can melt the material to suit our needs. For example a fast laser or low power can cause wood to darken. We can then create pictures or words by darkening selected areas. On the other hand, if we turn up the power or slow down the speed of the laser we can vaporize the wood under the laser resulting in a cut. The same is true for many other materials. Even with some metals we can draw the carbon from the metal into a location and use it to create our art. Or we can use the heat of the laser to chip away pieces of rock resulting in an engraved rock. Almost any material can be lasered except for materials containing PVC (creates a poison gas), chlorine (creates acid), and vinyl (creates strings of dust which very quickly foul the laser equipment).

To further enhance the look of some materials we can add special color inks. In some cases these are very permanent, in others they are durable but will eventually wear off. Nearly all colors are effected by light so if left in the sun for long periods of time, they will eventually fade. Colorizing a lasered piece is a hand operation and requires a great deal of time and patience.

Some pieces, such as the plastics used in name tags, are designed so we can laser away one color material to expose another color making this process fast and affordable. If you need some name tags created for your company or group give us a call. We can help.

We can also do signs for doors, desks, or about anything else you can thing of. The plastics used for this are durable and hold up to the weather well so they can even be used outside.

There are a few other materials that don't contain enough carbon to be written on directly such as chrome or aluminum. We have solutions for that as well. We cover the item with a special spray that bonds to the metal when the heat of the laser is applied. The result is permanent marking on the material. Unlike silk screen or inks, it's nearly impossible to remove the mark left behind from a laser.





For some examples of FUND RAISING ideas, follow this link.

"IMPORTANT, PLEASE NOTE:
Regarding pieces that are brought in to be engraved upon.
Whilst every care is taken with your item, we do not accept any responsibility if the item is damaged in any way when we undertake a job of engraving it.
We cannot always be certain of the material you supply us so there may be an element of trial and error to receive the end result.
If we find we cannot engrave it to our usual standard, we will return it to you in the state it is left after our attempt and will not be liable for replacing it if engraving is not successful."


Here are a few pieces to get you started on your ideas. For a larger version of any picture simply click on the thumbnail.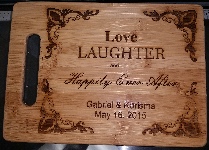 Special cutting board $40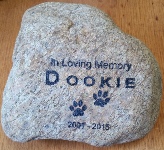 Special pet marker etched into rock $40


USB drive swivel (we sell the drives too of course)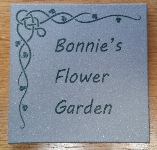 Tile garden marker 6x6 $27 (larger sizes can be special ordered but prices change. A 12x12 tile has 4X the amount of laser work involved)
These make really good pet memorial markers as well. Tiles are "bull nose" edged on one side.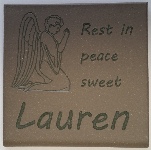 Sample of a memory marker from teh same material as the garden stone. As these are natural stones the color does vary slightly but it's not as much as shown in this picture. This was due to different lighting. $27


Knife after engraving but before letter fill on the left, and with black words on right (knife provided by customer)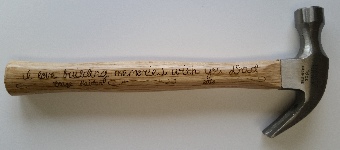 "I love building memories with you Dad" Hammer Father's Day special on 16 ounce hammer (limited supply) $25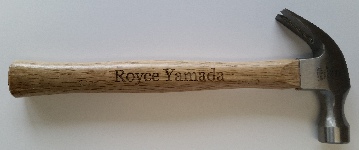 Hammer with customized name $25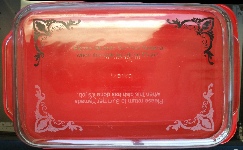 We printed this serving dish with two types of print so you can see the difference. On the top is a Black print we added to the dish. On the bottom the glass is just laser etched. The marking on the top costs a bit more but some people like it better. Obviously it's personal choice. This style of print on a Pyrex dish supplied by you, $25 in black, $20 etched only.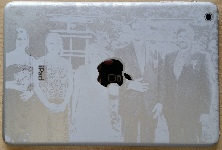 Simple etching onto Ipad. Can also do black etching instead of white.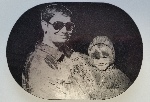 Granite etching memorial stone. Can be glued to grave stone or placed on mantle, or used as garden marker.


Water bottle with name etched onto metal in black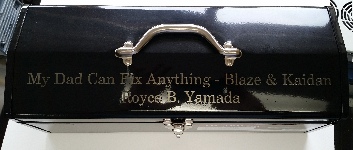 Black toolbox with letters cut into the paint. We coat the letters with a clear coating however it is possible they will rust since we cut the paint away from the metal. You may need to re-coat the box occasionally.


Playing cards made out of wood.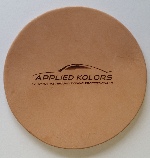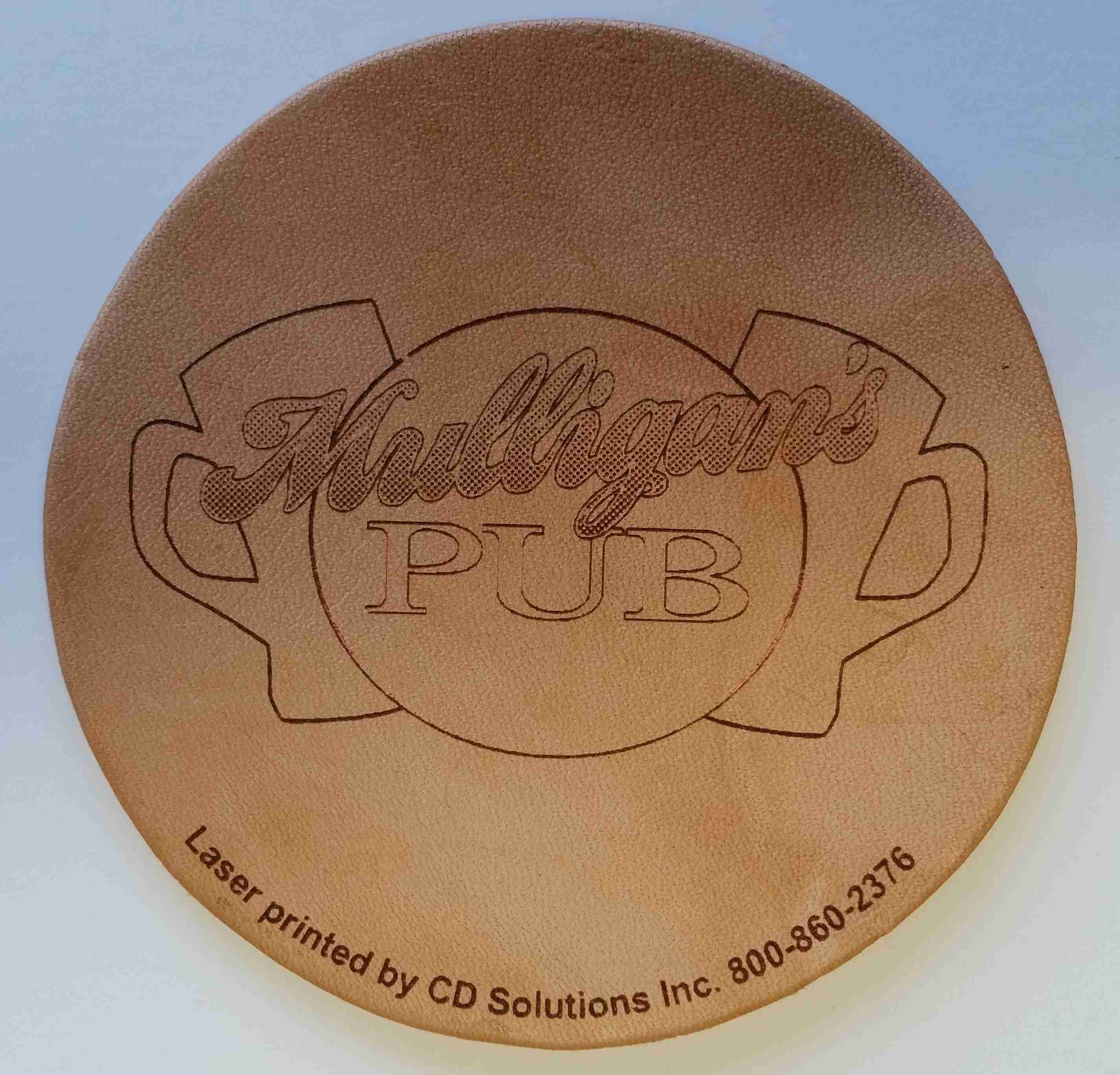 Cup coaster made from high quality leather. $5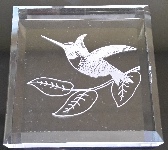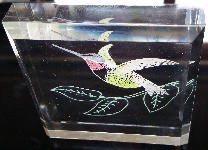 Acrylic paper weight. First one is unpainted, second is painted.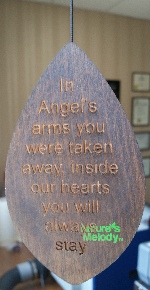 These wind chimes make great gifts. People give them instead of flowers for funeral memories etc. as well as general purpose gifts.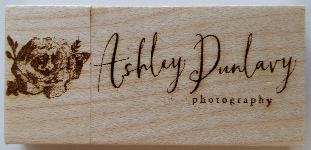 This is a wooden USB drive. The wooden style is popular among premium businesses such as photography companies or those companies where they want their image to really make an impact.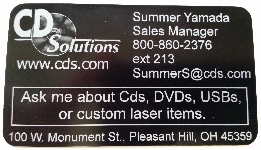 Metal business cards aren't for everyone but for those where they're really trying to make a good impression they do a fantastic job of making yourself stand out.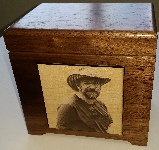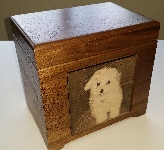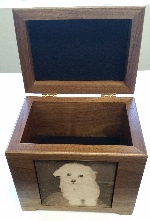 We have a variety of Urn that can be used for your loved ones. We can put names, dates, children's names, etc. as you wish.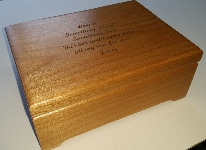 Example of one of our beautiful wooden gift boxes with custom printing on the lid.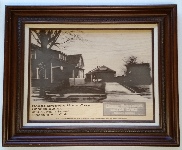 This is a photograph etched onto wood and then framed for the historical museum.



Leather wristbands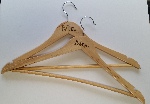 Mr.-n-Mrs. hangers with custom printing (or can use your initials).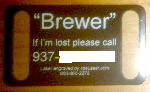 Dog tag (with phone number removed)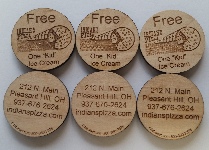 Wooden nickels have many uses. Consider them for fund raisers, gift tokens, or just to reward a kid when you see them doing something good.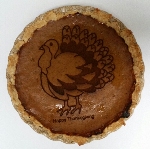 Many foods can be laser etched as well. It's edible when finished.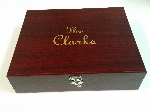 Wine box



Custom laser etched dust cover for AR (edited for posting)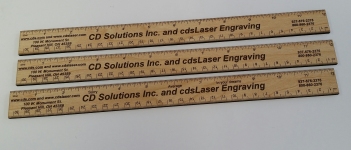 Custom etched rulers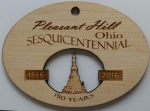 Pleasant Hill History Museum ornament fundraiser